P Series – Fixed Speed Pump Control – Variable Pressure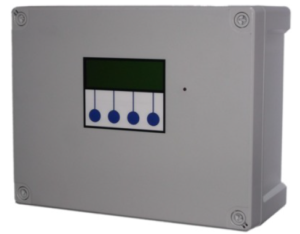 Pressure control of multiple pumps from a single Control Panel and pressure sensor. Fixed speed variable pressure pump control with adjustable start and stop pressures per pump, and intuitive menu driven options.
The pump pressure sensor is separate from the Control Panel allowing installation either close to the pumps as in a chassis mounted pump set, or for use with submerged pump sets for maximum performance, silent operation and reduced space requirements.
Monitoring of the supply tank/break tank via either float switch or analogue level sensor. Level sensor models have accurate level display and minimum level adjustment from the Control Panel.
Advanced Fault Tracking logs faults as they occur. Fault codes are stored in memory until you choose to erase them, allowing easy identification of intermittent and historical Faults.
Clever design of the circuit board provides the most robust unit on the market today, with overvoltage and brownout protection, immediate recovery from power failures with no loss of setting and auto reboot, individually fused outputs, oversized power supply to electronics, removable MCU chip (software) for easy upgrades, automatic failover of pumps, and automatic search for spare pumps even if not configured for twin pump use.
Modular connector design and tolerant software allows pumps to be 'hotswapped' without switching off the Controller or remaining pump.
Designed, programmed, built and assembled in the UK. With full UK based technical support, rapid spares availability, and spare parts supply from UK stocks, with full repair/recon service to component level.
| Product Code | Pumps Controlled | Supply Tank Control | Buy or Contact |
| --- | --- | --- | --- |
| PF120P | 2 | Float Switch | |
| PF130P | 3 | Float Switch | |
| PF140P | 4 | Float Switch | |
| PF320P | 2 | Level Sensor | |
| PF330P | 3 | Level Sensor | |
| PF340P | 4 | Level Sensor | |
Features
Adjustable pressure control (10bar max) Duty Standby/Duty Assist with alternation
Modular 'hot swap' of pumps and solenoids
Automatic Tank Level Calibration
Multiple pump model support at 230Vac 50Hz or any supply voltage/phase via contactors/overloads
BMS Switched output
Optional BMS serial output
Waterproof to IP65
Advanced Fault Tracking
Fault Warning LED
Auto hunt for redundant spare pump during pump failure in single pump mode
Swappable MCU chip (software)
System Overpressure Alarm – protects pipework and attached appliances (UV system, etc) from overpressure due to faulty installation or incorrect pressure setting
Overvoltage protection
Brownout protection
Watchdog timer
Fused Outputs
Adjustable Settings
Pump cut-in/cut-out pressure (for each pump) System Overpressure Alarm
Pump failure pressure
Pump Mode (Pump 1, Pump 2, Twin pump assist/standby) Minimum Water Level (dry run prevention) Pump restart delay
Fault code display
Fault code erase
Input test diagnostic screen
Output test diagnostic screen
Manual Stop – with BMS activation
Restore Factory Default Settings
Documentation