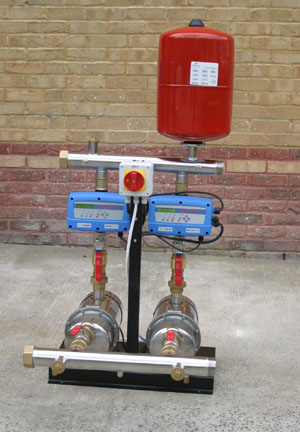 This product is also available with E-power inverters
 Pressure Boosting Sets
3P BVM series pressure booster sets are designed to supply water under pressure to multiple points of use.
Variable Speed Pressure Control maintains a near constant pressure by regulating the motor speed of each pump, providing considerable gains in efficiency compared to basic fixed speed pressure control. Pressure is measured at the outlet manifold by an electronic pressure sensor with greater reliability than mechanical switches.
Features include adjustable pressure, duty standby/assist with alternation at each pump cycle, and BMS output, whilst remaining extremely compact.
An optional float switch can be situated in a break tank or well providing an adjustable safety shut-off to prevent dry running.
Features
Adjustable pressure control
Duty Standby/Duty Assist with alternation
Quiet water cooled pumps fixed on anti-vibration mounts for extremely quiet operation
Single sided bolt removal (no need to reach backnut on other side)
Integral lifting point for ease of installation
Twin pressure vessels
Highly Accurate Digital Pressure Display
Lockable isolator switch
BMS Switched output
Swappable MCU chip (software)
Overvoltage protection
Adjustable Settings
Pump cut-in/cut-out pressure (for each pump)
System Overpressure Alarm
Pump failure pressure
Pump Mode (Pump1,Pump2,Twin pump assist/standby)
Minimum Water Level (dry run prevention)
Pump restart delay
Fault code display
Fault code erase
Input test diagnostic screen
Output test diagnostic screen
Manual Stop – with BMS activation
Restore Factory Default Settings
| | | | | | | | | |
| --- | --- | --- | --- | --- | --- | --- | --- | --- |
| Code | Pumps | Max Pressure bar | Max Flow l/min | Noise Level @ 1m (approx) | Supply Tank Monitoring | Voltage | Current | Contact |
| BVM1202 | 2xXMO120PRO | 5.3 | 180 | 60db | Float | ~1 230Vac | 14.4 | |
| BVM12042 | 2xXMO1204BHF | 4.3 | 290 | 60db | Float | ~1 230Vac | 12.8 | |
| BVM15052 | 2xXMO1505BHF | 5.2 | 290 | 60db | Float | ~1 230Vac | 14.6 | |
| BVM20062 | 2xXMO2006HF | 6.3 | 290 | 60db | Float | ~1 230Vac | 20.2 | |
| BVM12023 | 2xXMO120PRO | 5.3 | 180 | 60db | Float | ~3 400Vac | 5 | |
| BVM120423 | 2xXMV1204BHF | 4.3 | 290 | 60db | Float | ~3 400Vac | 4.4 | |
| BVM150523 | 2xXMV1505BHF | 5.2 | 290 | 60db | Float | ~3 400Vac | 5 | |
| BVM200623 | 2xXMO2006HF | 6.3 | 290 | 60db | Float | ~3 400Vac | 6 | |
| BVM200623V | 2xXMV2006HF | 6.3 | 290 | 60db | Float | ~3 400Vac | 6 | |