Variable Speed Combined Water Pressure Booster and Water Tank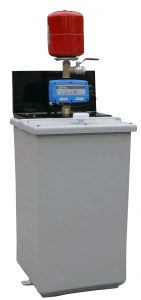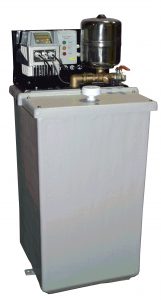 Quiet and economical supply of pressurised water to multiple points of use within a building. Ideal in domestic and light commercial uses where the enclosed design and low noise and vibration are desirable.
A variable speed inverter runs the pump only as fast as necessary to maintain the desired pressure, achieving high efficiency, minimising noise and vibration and reducing running costs.
The pump motor is protected by the inverter against failure caused by overload/stall conditions and dry running. A slow start and stop of the pump eliminates sudden pipe vibration and water hammer.
WRAS approved water storage tank. Available in three sizes, 230L, 570L and 1000L.
In the Original Model, the tanks are quickly filled by a large 1″ solenoid valve and the water level in the tank is controlled by safe and reliable 24v low voltage sensors. A display panel clearly shows when the system is powered, filling the tank, or in a fault condition.
Overflow warning and protection is provided by a high level sensor which displays a fault and halts the solenoid valve, providing an additional failsafe mechanism in the event of a failure or jam of a lower sensor.
Whereas the Basic model is quickly filled by a high speed float valve. An articulated ball arm provides additional movement reducing unnecesary valve activity.
Both models are designed, and assembled in the UK. With full UK based technical support, rapid spares availability, and spare parts supply from UK stocks.
Full recon/repair service available to component level.
Product Code
(ending B = Basic Model)
Pump
Dimensions (mm)
w x d x h
Tank Capacity (litres)
Flow Rate (l/min)
Max System Pressure
Recommended Operating Pressure
Contact
 BT2309031
 XMV80PRO
620 x 620 x 1450
230
 90
3.1
2.6
 BT2309031B
 XMV80PRO
 620 x 620 x 1700
230
 90
 3.1
 2.6
 BT23010063
XMV150T230
 620 x 620 x 1450
230
 100
 6.3
 5
 BT23010063B
XMV150T230
 620 x 620 x 1700
230
 100
 6.3
 5
 BT23014562
XMV2006THF230
 620 x 620 x 1450
230
 145
 6.2
 5.1
 BT23014562B
 XMV2006THF230
 620 x 620 x 1700
230
 145
 6.2
 5.1
BT5709031
XMV80PRO
770 x 970 x 1650
570
90
3.1
2.6
BT5709031B
XMV80PRO
770 x 970 x 1900
570
90
3.1
2.6
BT57010063
XMV150T230
770 x 970 x 1650
570
100
6.3
5
BT57010063B
XMV150T230
770 x 970 x 1900
570
100
6.3
5
BT57014562
XMV2006THF230
770 x 970 x 1650
570
145
6.2
5.1
BT57014562B
XMV2006THF230
770 x 970 x 1900
570
145
6.2
5.1
BT10009031
XMV80PRO
1180 x 1180 x 1450
1000
90
3.1
2.6
BT10009031B
XMV80PRO
1180 x 1180 x 1700
1000
90
3.1
2.6
BT100010063
XMV150T230
1180 x 1180 x 1450
1000
100
6.3
5
BT100010063B
XMV150T230
1180 x 1180 x 1700
1000
100
6.3
5
BT100014562
XMV2006THF230
1180 x 1180 x 1450
1000
145
6.2
5.1
BT100014562B
XMV2006THF230
1180 x 1180 x 1700
1000
145
6.2
5.1
Features
Maintains constant system pressure
WRAS approved water tank in three different sizes, 230L, 570L or 1000L
Reliable air cooled inverter with IGBT technology
High quality stainless steel pumps
Quiet water cooled pump located within the tank for extremely quiet operation
Single sided lid bolt removal (no need to reach backnut on other side)
8 litre stainless steel pressure vessel
Highly accurate digital pressure display
Pump Fault display
Highly visible tank status display & tank level fault warning (Original model only)
Type AB Air Gap available (optional) for compliance with WRAS regulations up to Category 5, BS EN 13077
Pump Protection Class IP68 (Submersible)
Controls Protection Class IP65 (Original model), IP55 (Basic model)
System Overpressure Alarm – protects pipework and attached appliances (UV system, etc) from overpressure due to faulty installation or incorrect pressure setting (Original model only)
Smallest models (230L) at 620mm wide, fit through doorways
Easily replaceable parts, designed for easy maintenance
Adjustable Settings
Adjustable pump pressure
Maximum and Minimum Pressure Alarms (Original model only)
Auto-restart after fault on/off
Runtime duration counters for inverter and pump
Adjustable ramp time for soft start/stop
Adjustable Delta start value (deviation from set pressure before the pump starts)
Restore factory default settings
Options (Original Model Only)
Remote alarm panel
GSM Remote Alarm by Text Messaging
BMS Connectivity by volt-free output
Fixed speed
Documents