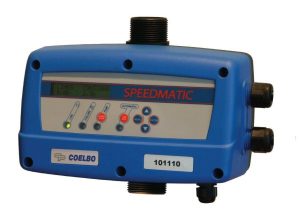 Inverter for single and 3 phase 230v pumps.
Adjusts pump motor speed to maintain constant pressure. The desired pressure can be adjusted from the keypad.
Reduces the size of pressure vessel required.
Soft starting eliminates water hammer.
Connection for float switch for level control / dry run avoidance.
Can be joined in pairs for duty assist / duty standby.
Can run 230v 3 phase pumps from a single phase supply.
Product Code
Max Pressure
Operating Range
Flow (max m3/hr)
Current (max per phase)
Contact
XINV101110
15
0.5 to 12 bar
15
~1 9A
~3 10A
XINV101165
10
0.5 to 8 bar
10
~1 5A
~3 6A
Features
Male 1.25in connections
Dry run protection
Overcurrent protection
Anti-ice system
Digital pressure / status display
Max 10A ~3, 9A ~1
Max operating pressure 15bar
Max set pressure 12bar
Max water temp. 40 deg C
Max flow 15m3/hr
Ingress Protection IP55