BPM Series Pressure Boosting Sets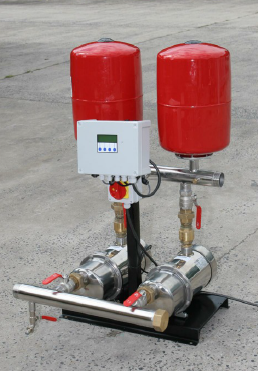 3P BPM series pressure booster sets are designed to supply water under pressure to multiple points of use.
Multi-Point Pressure Control manages both the start and stop pressure of each pump, achieving high efficiency without the increased cost of variable speed sets, but with enhanced reliability, reduced component count, and lower cost. Pressure is measured at the outlet manifold by an electronic pressure sensor with greater reliability than mechanical switches.
Features include adjustable pressure, duty standby/assist with alternation at each pump cycle, and BMS output, whilst remaining extremely compact. Pressure control is achieved by modulation of the pumps which are run as required to maintain pressure within a specified range.
An optional level sensor probe can be situated in a break tank or Well and indicates the current water level, as well as providing an adjustable safety shut-off water level which can be adjusted from the control panel.
BPM Series booster sets are controlled by the 3P Technik P Series Controller.
| Product Code | Pumps | Max Pressure (bar) | Max Flow (l/min) | Noise Level at 1m (approx) | Supply Tank Monitoriing | Voltage | Current | Buy Now |
| --- | --- | --- | --- | --- | --- | --- | --- | --- |
| BPM1202 | 2 x XMO120PRO | 5.3 | 180 | 60db | Float | ~1 230Vac | 14.4 | |
| BPM12042 | 2 x XMO1204BHF | 4.3 | 290 | 60db | Float | ~1 230Vac | 12.8 | |
| BPM15052 | 2 x XMO1505BHF | 5.2 | 290 | 60db | Float | ~1 230Vac | 14.6 | |
| BPM20062 | 2 x XMO2006HF | 6.3 | 180 | 60db | Float | ~1 230Vac | 20.2 | |
| BPM1202L | 2 x XMO12PRO | 5.3 | 180 | 60db | Pressure Transmitter | ~1 230Vac | 14.4 | |
| BPM12042L | 2 x XMO1204BHF | 4.3 | 290 | 60db | Pressure Transmitter | ~1 230Vac | 12.8 | |
| BPM15052L | 2 x XMO1505BHF | 5.2 | 290 | 60db | Pressure Transmitter | ~1 230Vac | 14.6 | |
| BPM20062L | 2 x XMO2006HF | 6.3 | 180 | 60db | Pressure Transmitter | ~1 230Vac | 20.2 | |
| BPM12023 | 2 x XMO120PRO | 5.3 | 180 | 60db | Float | ~3 400Vac | 5 | |
| BPM120423 | 2 x XMO1204BHF | 4.3 | 290 | 60db | Float | ~3 400Vac | 4.4 | |
| BPM150523 | 2 x XMO1505BHF | 5.2 | 290 | 60db | Float | ~3 400Vac | 5 | |
| BPM200623 | 2 x XMO2006HF | 6.3 | 180 | 60db | Float | ~3 400Vac | 6 | |
| BPM1202L3 | 2 x XMO120PRO | 5.3 | 180 | 60db | Pressure Transmitter | ~3 400Vac | 5 | |
| BPM12042L3 | 2 x XMO1204BHF | 4.3 | 290 | 60db | Pressure Transmitter | ~3 400Vac | 4.4 | |
| BPM15052L3 | 2 x XMO1505BHF | 5.2 | 290 | 60db | Pressure Transmitter | ~3 400Vac | 5 | |
| BPM20062L3 | 2 x XMO2006HF | 6.3 | 180 | 60db | Pressure Transmitter | ~3 400Vac | 6 | |
Features
Adjustable pressure control
Duty Standby/Duty Assist with alternation
Quiet water cooled pumps fixed on anti-vibration mounts for extremely quiet operation
Single sided bolt removal (no need to reach backnut on other side)
Integral lifting point for ease of installation
Twin pressure vessels
Highly Accurate Digital Pressure Display
Break Tank Level Display (optional)
Control Panel Failover to Automatic pumps (optional)
Adjustable viewing angle Control Panel
Modular 'hot swap' of pumps and solenoids
Lockable isolator switch
Automatic Tank Level Calibration
Multiple pump model support at 230Vac 50Hz or any supply voltage/phase via contactors/overloads
BMS Switched output
Optional BMS serial output
Advanced Fault Tracking
Fault Warning LED
Auto hunt for redundant spare pump during pump failure in single pump mode
Swappable MCU chip (software)
System Overpressure Alarm – protects pipework and attached appliances (UV system, etc) from overpressure due to faulty installation or incorrect pressure setting
Overvoltage protection
ŸAutomatic pump test / anti-blocking cycle
Brownout protection
Watchdog timer
Fused Outputs
Adjustable Settings
Pump cut-in/cut-out pressure (for each pump)
System Overpressure Alarm
Pump failure pressure
Pump Mode (Pump 1, Pump 2, Twin pump assist/standby)
Minimum Water Level (dry run prevention)
Pump restart delay
Fault code display
Fault code erase
Input test diagnostic screen
Output test diagnostic screen
Manual Stop – with BMS activation
Restore Factory Default Settings
Documents