H Series – Indirect Pressure Duty Assist / Standby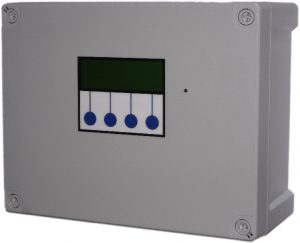 The 3P RainForce H series commercial Rainwater Controller performs all the functions you would expect of a commercial indirect system such as multiple pump control, duty standby, BMS output, whilst remaining extremely compact. Header tank level control control is achieved by software with the emphasis on providing maximum availability of water without the efficiency losses associated with ball cocks, or the reliability problems of a float switch based system.
Unlike many other systems which are often continental direct pressure systems feeding a ball cock, RainForce H Series are designed specifically for commercial header tanks. Filling the header tank without flow restriction guarantees maximum efficiency.
Smart software employs a maximum availability strategy, adapting to the supply conditions and increasing the level of mains water top-up when rainwater is unavailable. In addition, Top-up Assist mode activates all pumps (if possible) and mains water if the water in the header tank falls to a critical level. No water ever needs to go through the Control Panel.
Operation of the pumps and solenoid can be remote or not. Any electric pumps, solenoids, motorised valves, etc can be used.
Single or 3 Phase (with optional contractor unit), Rainforce does not need to 'know' the pumps it uses. Optional hardware (contactors) allows pumps of any power up to the limit of your electrical supply.
Pumps can be replaced with other makes and models at any time and don't need to be matched. Downtime due to reprogramming or lead times for sourcing a specific pump are eliminated.
2 Versions are available:
200H – Tank level sensing by float switch. A standard float switch operated at low voltage (+15Vdc) for enhanced durability detects water in the rainwater tank, with top-up and pump isolation controlled by float switch height. (Usually needs someone to enter the tank to install).
300H – Tank level sensing by pressure transmitter A precise pressure transmitter is used to determine the exact level of stored rainwater, and displaying an automatically calibrated reading in % to the user. No other float switches or probes are needed for pump protection. This provides the user with the added flexibility of being able to select the minimum water level from the panel, with no need to access the tank.
All RainForce systems have intuitive menu driven settings. There are no hidden menus, and almost everything is adjustable, including minimum level, operation mode, etc. Safe default settings will operate straight away in single pump mode with auto tank level calibration (300H only).
RainForce incorporates Advanced Fault Tracking. Fault codes are stored in memory until you choose to erase them, allowing easy identification of intermittent and historical faults. Clever design of the circuit board makes Rainforce the most robust unit on the market today, with overvoltage and brownout protection, immediate recovery from power failures with no loss of setting and auto reboot, individually fused outputs, oversized power supply to electronics, removable MCU chip (software) for easy upgrades, automatic failover of pumps, and automatic search for spare pumps even if not configured for twin pump use.
Modular connector design and tolerant software allows pumps to be 'hot-swapped' without switching off the Controller or remaining pump.
Designed, programmed, built and assembled in the UK, with full UK based technical support, rapid spares availability, and spare parts supply from UK stocks. Full repair/recon service to board level.
| Product Code | Product Level Control | Outputs | Control Panel Power Consumption | Inputs (Analogue 4-20mA) | Inputs (Digital) | Buy Now |
| --- | --- | --- | --- | --- | --- | --- |
| RF200H | Float Switch | 2 x 10A Pumps,1 x 10A Solenoid, 1 x 10A Drain Solenoid | 7w | 2 x unused | 1 x Tank Sensor, 4 x Header Tank Sensors | |
| RF300H | Pressure Sensor | 2 x 10A Pumps,1 x 10A Solenoid, 1 x 10A Drain Solenoid | 7w | 1 x Pressure Sensor, 1 x unused | 4 x Header Tank Sensors, 1 x unused | |
| RF350H | 2 Pressure Sensors | 4 x 10A Pumps | 7w | 2 x Pressure Sensor | 4 x Header Tank Sensors, 1 x unused | |
Features
3 Modes or operation, Automatic, Mains Only, and Rainwater Only
2 Top-up strategies, Eco and Max
Duty Standby/Duty Assist with alternation
Modular 'hot swap' of pumps and solenoids
Automatic Tank Level Calibration
Multiple pump model support at 230Vac 50Hz or any supply voltage/phase via contactors/overloads
Single Sphase (3 phase via additional connection kit)
BMS Switched output
Optional BMS serial output
Advanced Fault Tracking
Fault Warning LED
Auto hunt for redundant spare pump during pump failure in single pump mode
Swappable MCU chip (software)
Solenoid valve isolation on fault – reducing fire risk from overheat
Waterproof to IP65
Overvoltage protection
Brownout protection
Watchdog timer
Fused Outputs
Adjustable Settings
Operation Mode, Auto/Mains/Rain
Top-up Mode, Eco/Max
Pump Mode (Pump 1, Pump 2, Twin Pumps – Simultaneous, Twin Pumps – Duty Standby/Assist with alternation
Minimum Rainwater Level (dry run prevention)
Fault code display
Fault code erase
Input test diagnostic screen
Output test diagnostic screen
Manual Stop – with BMS activation
Restore Factory Default Settings
Documents