TC340 – Programmable Level Control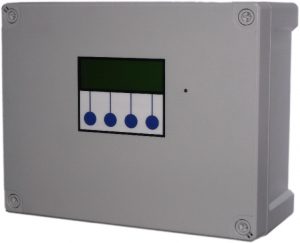 The 3P TC Series Tank Controller maintains and monitors the level of water in a storage tank. A precise level sensing probe detects the exact height of water present in the tank. The Controller then uses any of four mains voltage outputs which can be connected to pumps, solenoids, motorised valves or any other type of filling or draining device to maintain the level between defined limits.
Each pump or valve connected to the Controller is assigned high and low switch levels, and configured to drain or fill the tank. Additionally, each output can be linked to any of 5 switch inputs, which must be closed for the output to operate. This is in addition to the minimum and maximum levels that the output must operate within and is useful in cases where water is to be transferred from point to point. Filling a tanker for example could be conditional on sufficient water in the main supply tank, and also depend on a shut-off or level switch on the tanker or filling hose. Alternatively a pumped stormwater attenuation system could be linked to a rain sensor to stop emptying the tank when rainfall is detected.
Level sensing is achieved via a single pressure sensor installed on the base of the tank. This reads the actual water depth and the Control Panel then shows the exact level and operates accordingly, thereby removing the reliability issues associated with float switch based systems.
All level settings are set from the Control Panel. There is no need to enter the tank to fit and adjust float switches. High and low level alarms are also set from the control panel, and a switched BMS output (volt free contact) is provided, which can be also used to activate sirens/strobes.
Advanced Fault Tracking detects and logs faults in memory until you choose to erase them, allowing easy identification of intermittent and historical faults.
Overvoltage and brownout protection, immediate recovery from power failures with no loss of setting and auto reboot, individually fused outputs, oversized power supply to electronics, removable MCU chip (software) for easy upgrades. Modular connector design and tolerant software allows pumps and sensors to be 'hot-swapped' without switching off the Controller or remaining pump.
Designed, programmed, built and assembled in the UK. With full UK based technical support , rapid spares availability, and spare parts supply from UK stocks. Full repair/recon service to component level.
Product Code
Level Control
230v Outputs
Control Panel Power Consumption
Analogue 4-20mA Inputs
Digital Inputs
Buy Now
TC340
Quad Output Tank Controller
4 x 10A
7w
2
5
RCPT06S20
Additional Level Sensor for 2nd Tank Use
Features
Modular 'hot swap' of pumps and solenoids
No need for tank level calibration
Multiple pump model support at 230Vac 50Hz or any supply voltage/phase via contactors/overloads
Waterproof to IP65, IP68 available on request
BMS Switched output
Optional BMS serial output
Advanced Fault Tracking
Fault Warning LED
Auto failover to redundant spare pump/valve can be set using spare output
Swappable MCU chip (software)
High and Low Level alarms, linked to BMS output
Overvoltage protection
Brownout protection
Watchdog timer
Fused Outputs
Adjustable Settings
High/Low level settings for each output
Link any output to any input switch
Link and output to either level probe
Switch inputs can be shared between outputs
High Level/Low Level alarms
Fault code display
Fault code erase
Input test diagnostic screen
Output test diagnostic screen
Manual Stop – with BMS activation
Restore Factory Default Settings
Documents