CBB Compact Pressure Boosters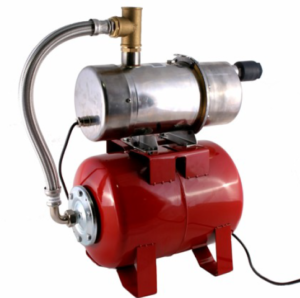 Fully Water Resistant (includind temporary immersion),
Dry Run Protection
Low Noise, 60db or less
Thermal Protection
Continuous Duty
Pressure up to 5.2 Bar
Flow Rates up to 100 Litres per minute
24l Pressure Vessel
Optional Carry Handle for Portable Use.
CBB series pressure booster sets are a compact, safe, very quiet and reliable solution for domestic and light commercial pressure boosting.
An automatic pump supplies water on demand, eliminating the need for an additional pressure controller.
Large 24L pressure vessel increases efficiency and prolongs pump life.
Automatic dry run protection, with periodic restarts.
All sensors and control equipment integrated into the pump.
Anti Blocking System cycles the pump briefly every 72 hours in the event of no activity to prevent jamming of mechanical seals.
IP68 fully waterproof, suitable for use in wet environments.
Quiet, water cooled pumps are self-cooling without the need for fans or ventilation. Suitable for installation in confined spaces. Safe in humid environments and basements.
Optional carrying handle available for portable and site use.
Optional pressure gauge available.
Robust and easy to operate, no external controls, no configuration necessary.
Supplied with 10m mains cable. Longer lengths are available.
| Product Code | Pump | Max Pressure (bar) | Max Flow (l/min) | Voltage | Current | Buy Now |
| --- | --- | --- | --- | --- | --- | --- |
| CBB5041P | X-AJE80P | 4.1 | 50 | ~1 230Vac | 4.5 | |
| CBB5051P | X-AJE120P | 5.1 | 50 | ~1 230Vac | 6.3 | |
| CBB5041B | X-AJE80B | 4.1 | 50 | ~1 230Vac | 4.5 | |
| CBB5051B | X-AJE120B | 5.1 | 50 | ~1 230Vac | 6.3 | |
| CBB5041PRO | X-AJE80PRO | 4.1 | 50 | ~1 230Vac | 4.5 | |
| CBB5051PRO | X-AJE120PRO | 5.1 | 50 | ~1 230Vac | 6.3 | |
| CBB9031B | X-AMO80B | 3.1 | 90 | ~1 230Vac | 5.1 | |
| CBB9052B | X-AMO120B | 5.2 | 90 | ~1 230Vac | 7.5 | |
| CBB9031PRO | X-AMO80PRO | 3.1 | 90 | ~1 230Vac | 5.1 | |
| CBB9052PRO | X-AMO120PRO | 5.2 | 90 | ~1 230Vac | 7.5 | |
| CBB10021B | X-A2CP | 2.1 | 100 | ~1 230Vac | 4.8 | |
Documents