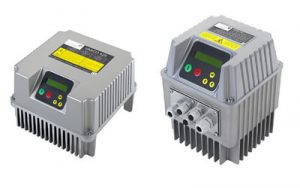 The VASCO is a highly versatile variable frequency drive, designed to control and protect commercial pumping systems by varying the pump speed. Air-cooled it requires adequate ventilation.
Can be connected to any manual pump on the market, and will manage the operation of the pump to maintain a constant desired physical dimension (such as pressure, flow, temperature or other). The pumping system runs only at the speed necessary to meet user's requirements, ensuring energy savings and extending the life of the system.
Body is constructed entirely of aluminium, with compact size, light weight and durability.
IP55 ingress protection makes it possible to install in humid and dusty environments; the liquid crystal illuminated display ensures easy operation and a buzzer provides an immediate indication of alarm.
Also provides motor protection and monitoring, such as:
Protection against overload and dry running
Integrated soft start and soft stop functions, extending the life of the system and reducing peak absorption
Not suitable for use with automatic pumps
Product Code
Input
Output
Output Current
Typical Motor Power (P2)
Size (mm)
INV209
~1 x 230vac
~1 x vin
~3 x vin
~1 x 9A
~3 7A
~1 x 1.1kw
~3 1.5kw
181 x 181 x 228
INV214
~1 x 230vac
~1 x vin
~3 x vin
~1 x 9A
~3 11A
~1 x 1.1kw
~3 3kw
181 x 181 x 228
INV406
~3 x 380-460vac
~3 x vin
6A
2.2kw
181 x 181 x 228
INV409
~3 x 380-460vac
~3 x vin
9A
4kw
181 x 181 x 228
INV414
~3 x 380-460vac
~3 x vin
14A
5.5kw
260 x 260 x 180
INV418
~3 x 380-460vac
~3 x vin
18A
7.5kw
260 x 260 x 180
INV425
~3 x 380-460vac
~3 x vin
25A
11kw
260 x 260 x 180
INV430
~3 x 380-460vac
~3 x vin
30A
15kw
260 x 260 x 180
Features
Single and 3 phase models
Can connect up to 8 together for large pump groups
Can control a secondary fixed speed pump
External sensors
2 x 4-20mA inputs, 2 x 4-20mA or 0-10v (selectable)
Ingress protection to IP55